Doctor Gift Ideas and the new 2013 Doctors' Day Greeting card
History of National Doctors' Day

Great doctor gift ideas for National Doctors' Day which is held every year on March 30th in the United States. It is a day to celebrate the contribution of physicians who serve our country by caring for its' citizens. This year, we have a simple "Thank You" theme and hope everyone gets a chance to say this to the physicians who have served for the past year.
The first Doctor's Day observance was March 30, 1933 in Winder, Georgia. Eudora Brown Almond, wife of Dr. Charles B. Almond, decided to set aside a day to honor physicians. This first observance included the mailing greeting cards and placing flowers on graves of deceased doctors. The red carnation is commonly used as the symbolic flower for National Doctor's Day.

On March 30, 1958, a Resolution Commemorating Doctors' Day was adopted by the United States House of Representatives. In 1990, legislation was introduced in the House and Senate to establish a national Doctor's Day. Following overwhelming approval by the United States Senate and the House of Representatives, on October 30, 1990, President George Bush signed S.J. RES. #366 (which became Public Law 101-473) designating March 30th as "National Doctor's Day."
________________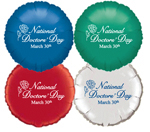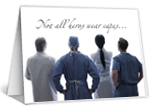 The National Doctors' Day Logo is a registered trademark property of The National Doctors' Day Organization. call 800-849-1727 or email info@doctorsday.org. ®Copyright 2001. All Rights Reserved.
10% discount

Use coupon code:

www10

at checkout